Friday, 18 February 11 - 07:04 AM (GMT)


By Vincenzo Capozzoli in General
Southampton City Council is taking advantage of new powers made available by the government to better manage Houses in Multiple Occupation (HMOs).
As a port city with 2 universities, Southampton has areas with large concentrations of HMOs, leading to parking problems and other difficulties.
New planning powers, called an Article 4 Direction will allow the council to require planning permission for new HMOs and will mean it is possible to refuse applications where they are inappropriate or set sensible conditions on the applicants.
The council has announced that it will implement an Article 4 Direction as soon as possible.
Thursday, 20 January 11 - 01:29 PM (GMT)


By Vincenzo Capozzoli in General
Top UK firms including Asda, Centrica, and Microsoft have pledged to create jobs in the UK this year as part of a drive to generate growth.
The news comes as Prime Minister David Cameron holds talks with major UK employers in a "jobs summit" in Downing Street.
300,000 jobs have been created in the private sector over the last six months, and a survey by industry federation the EEF today confirmed that the manufacturing sector was set for strong growth this year.
Launching the jobs summit, Prime Minister David Cameron said:
"We can only get our economy back on track by creating a climate in which the private sector can grow and develop, creating jobs and opportunities for people across the country. This year the Government is determined to help deliver many thousands of new jobs and I'm delighted that the companies joining me today are part of that.
"Across a whole range of areas you're going to see the most pro-business, pro-growth, pro-jobs agenda ever unleashed by a government. Its time we looked forward to a positive, strong, confident Britain. By developing the right skills and jobs I am determined that the many not the few will share in the country's prosperity."
Wednesday, 06 January 10 - 07:08 PM (GMT)


By Vincenzo Capozzoli in General
The situation in Southampton:
The city is expecting more snow, ice and very cold weather conditions over the next few days.
We have enough rock salt to grit all the major A roads in the city. However, during these extreme weather conditions many roads and pavements will inevitably be icy and slippery. Driving conditions are dangerous so we urge extreme caution to all residents and advise that people only make essential journeys.
For more information-
visit the Southampton city council
For school closures click here
Saturday, 05 December 09 - 07:14 PM (GMT)


By Vincenzo Capozzoli in General
Your Portswood Conservative action team are here to help. We are always happy to help with any problem, no matter how big or small with anything that will improve your local area.
You can contact the members of your action team using the following links-
Cllr Jeremy Moulton- Southampton Test Parliamentary Candidate- E-mail
Cllr Vincenzo Capozzoli- Portswood Ward Councillor- E-Mail
Matthew Claisse- Portswood Ward Candidate- E-mail
Thursday, 03 December 09 - 05:40 PM (GMT)


By Vincenzo Capozzoli in General
Referring to the United States's NATO partners, President Obama last night asked, "that our commitment be joined by contributions from our allies. Some have already provided additional troops, and we're confident that there will be further contributions in the days and weeks ahead." A conference will be held in London in January to discuss international contributions to the effort.
NATO Chief Anders Fogh Rasmussen promised 5,000 troops, but it's a little unclear where he's going to get them:
Reacting to Obama's call for more help, a Polish official said the government will likely send 600 combat-ready reinforcements, mainly for patrolling and training, to beef up its existing 2,000-strong contingent.
Albania pledged to increase its 250-member unit by 85 troops, army trainers and medical workers, Prime Minister Sali Berisha said.
Spain's El Pais daily said the defense ministry was considering adding 200 soldiers to its 1,000 contingent. Italy declared it would do its part and Finland confirmed that it had been asked to consider sending more troops and would do so next week. [...]
Britain announced before Obama's speech it is sending 500 more troops to Afghanistan, bringing its numbers there to 10,000.
France and Germany are holding off on any troop decision until an international conference in January, though French President Nicolas Sarkozy has previously pledged that he "won't send an additional soldier."
The other big question is the Netherlands, whose parliament voted for a non-binding resolution in favor of withdrawal when the Dutch mission ends next August. If the Dutch government follows through and pulls out its 2,160 troops, that would more than negate the 1,385 troops already pledged by Britain, Spain, Poland and Albania. Canada has already passed a withdrawal plan for 2011 as well and seems unlikely to add more troops.
Even in a best-case scenario in which the Dutch keep current troop levels and the countries mentioned are able to follow through through on their commitments, NATO will still need get more than 3,500 troops from the Italians, the Australians, the deeply ambivalent Germans and a hodge-podge of smaller nations, none of whom currently have more than 1,000 troops in the country.
It doesn't seem too likely.
Friday, 13 November 09 - 06:34 PM (GMT)


By Vincenzo Capozzoli in General
What should we make of the news that President Obama is still not happy with the proposed strategy for Afghanistan, and that his doubts are being reinforced by a skeptical report from retired general Karl Eikenberry, who is now the U.S. ambassador in Kabul?
First, I think it's a sign that deep down, Obama knows he has no good options. He's figured out that the stakes aren't as great as he may have once thought, that the commitment is potentially endless, that America has no local partner for the kind of centralized, "state-building" approach that remains at the heart of U.S. strategy, and that going all in will commit him to a war America won't win. No wonder he keeps looking for an alternative.
Second, he's painted himself into a corner with his earlier tough talk, and he's worried that the GOP and FoxNews and various armchair generals will all accuse him of appeasement if he gives McChrystal anything less than what the general asked for, or if he dares to put a time limit on a continued U.S. effort. So all those recent news stories stressing how seriously Obama is taking this and how much he's grilling his advisors are designed to convince us that he's looked really, really hard at all the options. The goal is to build support for whatever decision he ultimately makes, even if everyone secretly knows it's not likely to work.
Third, this is an issue where Obama's instinct for compromise and his natural gift for reconciling conflicting positions is not serving him well. Given the range of problems that the United States is facing at home and abroad, bold action is badly needed. Not the sort of unthinking, shoot-from-the-hip fantasies that drove Bush's foreign policy during his first term, but rather a ruthless, hardnosed set of choices about priorities. Obama did a little bit of that during his first couple of months -- mostly about the economy -- but well-entrenched interests and conventional wisdom began to take over.
With respect to Afghanistan: it is either a worth a prolonged and costly investment of lives and money or it isn't. Either America goes all or they should get out. Trying to split the difference on this issue is not leadership; in fact, it is a recipe for failure.
Friday, 13 November 09 - 06:24 PM (GMT)


By Vincenzo Capozzoli in General
Last Sunday I took part in the
Remembrance Day
service that took place at the cenotaph in Watts Park. Servicemen, councillors and council staff marched from the Civic Centre to the cenotaph for the two minute silence and the wreath laying ceremony to remember the fallen of two world wars and the many conflicts that followed.
Saturday, 22 August 09 - 02:55 PM (GMT)


By Vincenzo Capozzoli in General
For those who say that comparing the current war in Afghanistan to the Vietnam War is taking things too far, here's a reality check: It's not taking things far enough. From the origins of these North-South conflicts to the role of insurgents and the pointlessness of this week's Afghan presidential elections, it's impossible to ignore the similarities between these wars. The places and faces may have changed but the enemy is old and familiar. The sooner the United States recognizes this, the sooner it can stop making the same mistakes in Afghanistan.
Even at first glance the structural parallels alone are sobering. Both Vietnam and Afghanistan (prior to the U.S. engagement there) had surprisingly defeated a European power in a guerrilla war that lasted a decade, followed by a largely north-south civil war which lasted another decade. Insurgents in both countries enjoyed the advantage of a long, trackless, and uncloseable border and sanctuary beyond it, where they maintained absolute political control. Both were land wars in Asia with logistics lines more than 9,000 miles long and extremely harsh terrain with few roads, which nullified U.S. advantages in ground mobility and artillery. Other key contributing factors bear a striking resemblance: Almost exactly 80 percent of the population of both countries was rural, and literacy hovered around 10 percent.
In both countries, the United States sought to create an indigenous army modeled in its own image, based on U.S. army organization charts. With the ARVN in South Vietnam and the ANA in today's Afghanistan, assignment of personnel as combat advisors and mentors was the absolute lowest priority. And in both wars, the U.S. military grossly misled the American people about the size of the indigenous force over a protracted period. In Afghanistan, for example, the U.S. military touts 91,000 ANA soldiers as "trained and equipped," knowing full well that barely 39,000 are still in the ranks and present for duty.
The United States consistently and profoundly misunderstood the nature of the enemy it was fighting in each circumstance. In Vietnam, the United States insisted on fighting a war against communism, while the enemy was fighting a war of national reunification. In Afghanistan, the United States still insists on fighting a secular counterinsurgency, while the enemy is fighting a jihad. The intersection of how insurgencies end and how jihads end is nil. It's hard to defeat an enemy you don't understand, and in Afghanistan, as in Vietnam, this fight is being played out in a different war.
This is but the tip of the iceberg of a long list of remarkable parallels. What's really startling are the deeper strategic connections. The United States lost the war in Vietnam, historical revisionism notwithstanding, because of a fatal nexus of political and military failure, and the exact same thing is happening in Afghanistan. As Andrew Krepinevich noted many years ago, the army failed in Vietnam because it insisted on fighting a war of maneuver to "find, fix, and destroy" the enemy (with what became known as "search and destroy missions") instead of protecting the people in the villages. Today these tactics are called "sweep and clear missions," but they are in essence the same thing -- clearing tiny patches of ground for short periods in a big country in hopes of killing enough enemy to make him quit. But its manpower pool was not North Vietnam's Achilles heel and neither is it the Taliban's. Almost exactly the same percentage of personnel in Afghanistan has rural reconstruction as its primary mission (the Provincial Reconstruction Teams) as had "pacification" (today's "nation-building") as their primary mission in Vietnam, about 4 percent. The other 96 percent is engaged in chasing illiterate teenage boys with guns around the countryside, exactly what the enemy wants us to do.
Meanwhile the political failure in Kabul is Saigon déjà vu. A government that is seen as legitimate by 85 or 90 percent of the population is considered the sine qua non of success by counterinsurgency experts. After the Diem coup, this was never possible in Vietnam, as one incompetent and utterly corrupt government succeeded another. None was legitimate in the eyes of the people. Contemporary descriptions of the various Saigon governments read almost exactly like descriptions of the Karzai government today. Notwithstanding all the fanfare over this week's presidential voting in Afghanistan, the Kabul government will never be legitimate either, because democracy is not a source of legitimacy of governance in Afghanistan and it never has been. Legitimacy in Afghanistan over the last thousand years has come exclusively from dynastic and religious sources. The fatal blunder of the United States in eliminating a ceremonial Afghan monarchy was Afghanistan's Diem Coup: afterwards, there was little possibility of establishing a legitimate, secular national government.
It doesn't matter who wins the August elections for president in Afghanistan: he will be illegitimate because he is elected. We have apparently learned nothing from Vietnam.
Wednesday, 12 August 09 - 10:57 AM (GMT)


By Vincenzo Capozzoli in General
Monday, 10 August 09 - 05:09 PM (GMT)


By Vincenzo Capozzoli in General
To begin with, let's consider criteria and that means we need to ask "dangerous to whom?" There are plenty of local actors who are the nearest, greatest threats to the neighbors. So, let's limit ourselves to actors who can cause the greatest disruption through their actions to the most people over the next decade or so.
10. Venezuela
Ok, Chávez won't start any world wars. But think of his disruptive reach around the hemisphere, his support for the FARC, and his cultivation of ties to Russia, China and the Middle East and its clear this is the one guy who is most likely to disrupt lives in Latin America for the foreseeable future.
9. Iraq and Saudi Arabia (Tie)
The final chapter has not been written in Iraq. Saddam may not have posed the threat Bush ascribed to him, but the fragmentation of this country (particularly in Kurdistan) could be massively destabilizing in the region and create real problems with Turkey, Iran, and Russia. The Saudis support terror, their succession picture is murky, they are likely to be one of the first to respond to Iranian nukes with a program of their own, and they pull key levers in OPEC. Hard not to include them, too.
8. The European Union
Europe should be a force for stability in the world. But an EU without an effective foreign policy mechanism, without the ability to shoulder its share of the military burden associated with keeping the world safe, with a faltering Euro and with too many new members is a big void where the world needs strength. Sometimes the greatest threat comes from those who could take action to preserve stability but who do not.
7. Nigeria and Congo (Tie)
Nigeria is the biggest country on a continent that is increasingly important to the world for oil and other resources. It is a major player in the global energy scene. And it faces multiple threats both internally and from a truly scary neighborhood. Congo is the site of the world's most deadly conflict of the past decade and both a metaphor and hub for the kind of regional fracturing that make instability in Africa one of the things most worrying to U.S. and European military commanders.
6. Israel and Palestine (Tie)
This is a dangerous place, for sure. Hostile or ill-considered moves by either party can trigger regional instability that would impact global energy markets and draw the attention of every major world power. The only reason this festering wound is ranked so low: everyone is so accustomed to it that it is more likely than not to have very narrow consequences even if it heats to a boil for extended periods.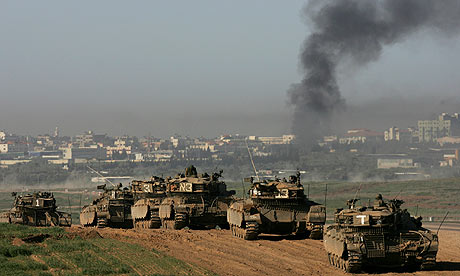 5. Iran
Iran could be an important regional force for stability. But for the near term that looks pretty unlikely. Meanwhile, if the Iranian nuclear program triggers a regional arms race that may not mean state-on-state thermonuclear disaster (deterrence probably still works for most states) but it vastly increases the likelihood that some nuke ends up in the hands of some non-state (or allegedly non-state) actor.
4. Russia
See the preceding article. I rank them behind Pakistan because the odds are better that their desire to be part of the world system ultimately suppresses the country's more dangerous impulses. And because they are likely for the near term to be more dangerous as a diplomatic and political disruptor and as a regional mischief maker than as a direct military threat to anyone outside their immediate neighborhood.
3. Pakistan
Pakistan is just barely a functioning state in the pieces of the country where the government has some control. As for the rest of the place? There are pieces that never bought into the idea of the Pakistani nation. So take that, add nukes, add the impact on India and Afghanistan, add al Qaeda and the Taliban, add the country as a petri dish and a symbol for radical Islam and it's still the place with the biggest potential to blow up into something very messy for the world in the next several years.
2. China
I do not believe China is a military threat to the U.S. or to anyone now or at any time in the near future. Rather they are on top of this list for the same reason that the number one country is: the most dangerous countries are the ones with the most power. They flex their muscle ... economic, political, or military... and they have the biggest impact. Or, as in the case of China, if they don't ... if they remain the reluctant great power ... and don't assume a role in the international system proportionate to their power, it will throw the system out of balance. (For example: if Iran's nuclear program is a threat and China could make a difference in containing it but doesn't ... they become a contributor to the threat.) Further, they've got internal struggles that could have them focused inward for a long time ... some, with the Uighurs say, that could have them caught up in a struggle with the Islamic world that could next spread into Central Asia (a development that worries me a great deal.)
1. The United States
I generally believe the U.S. is a force for good in the world and I am inclined to believe that is the objective of the current administration. But there is no denying that the one country who has most aggressively reached out to touch the world militarily in the past decade is the Untied States. Further, and more importantly, following the logic in the EU and China mentions above...no one has more power than the United States. That means no one can do more damage with a mistake or even with inaction. Also: as in the case of China and the EU, our economic missteps punish the planet and there is very little evidence to suggest we've taken the steps we need to avoid another meltdown of the 2008-2009 variety. Ask yourself: What has harmed more people on the planet, terrorist brutality or Wall Street venality?
... More items are available in our News Archive